Clearpay
You can allow your customers to pay for their purchases in instalments by using Clearpay payment service in your  store. Clearpay splits the order cost into four equal parts so that the buyer can pay it off over four interest-free payments that are due every two weeks. While customers pay off in instalments, you as a merchant is paid by Clearpay upfront and in full.
Giving customers an alternative way of payment translates to bigger carts and higher conversions and is especially useful if you sell larger price items (up to £900).
---
Setting up Clearpay in store
Clearpay is available in the United Kingdom and supports only Pound sterling currency.
To enable Clearpay payment method in your store:
Register a Clearpay retailer account and wait till it gets verified.
Open your store Control panel → Payment.
Scroll down and choose Clearpay from the Other ways to get paid dropdown.
Enter your Clearpay credentials – Merchant ID and Secret Key.
You can obtain your Clearpay credentials in the Settings > Integrations section of your Clearpay account. If you do not see your merchant account credentials there, please contact Clearpay support team for assistance.
Enter the name for this payment method – customers will see it at checkout and you will see it in order details (or keep the suggested name):
Keep the Enable this payment method at checkout toggle "On" to offer this payment method to your customers at checkout.
Edit or use the suggested instructions on how to pay via this payment method in your store. Customers will see it at checkout after choosing this payment method for their order:
Save the changes.
That's it. Customers can now pay in instalments for orders that fall in the £30 – £900 total range.
Since not every order will qualify for Clearpay financing and some orders may exceed the limitation of £900, we recommend adding different online payment methods to ensure everyone can check out.
---
Customer experience
The possibility to pay in installments is available to orders that fall in the £30 – £900 total range. Clearpay splits the order total (the sum of the product price, shipping cost, taxes, etc) into four equal parts that can be paid off by buyers over time, free of interest.
If a product price is between £30 – £900, customers will see in that product's page that they can pay for this purchase in installments:
When the buyer proceeds to checkout, the installments are recalculated to factor in the updated order cost if it's changed due to shipping costs, applied discounts, taxes, etc.
In case a product price is lower than £30 but the order total is higher (due to the shipping cost, for instance), the Clearpay post-payment offer will not be displayed on the product page but Clearpay will still be offered for such order as a payment method at checkout.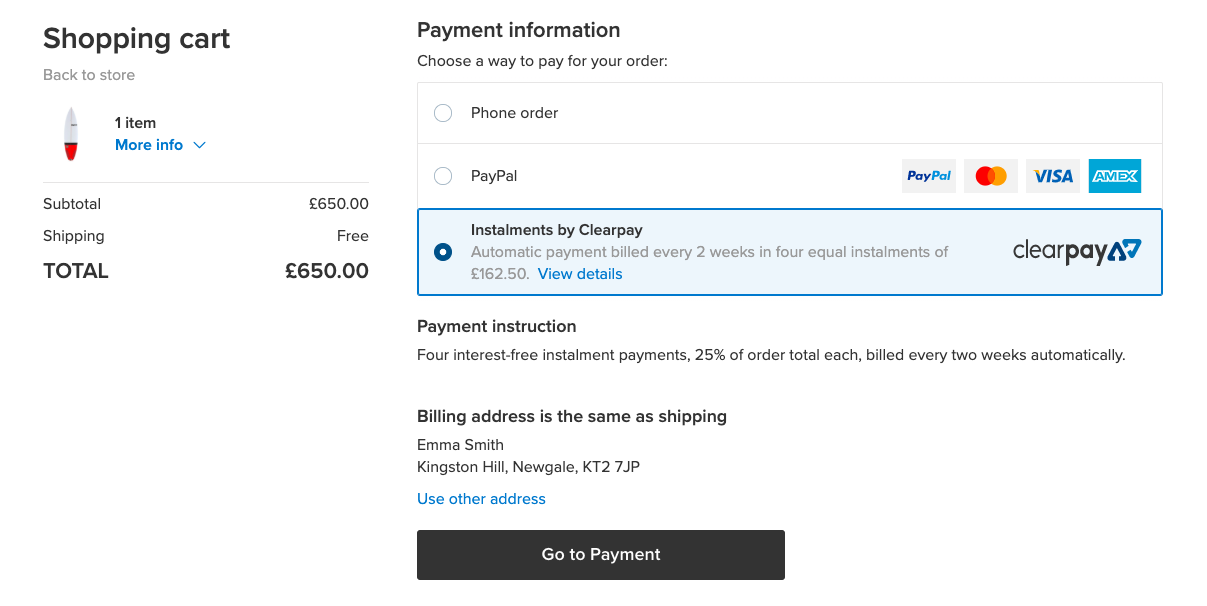 To pay for their order in installments, buyers will need to choose Clearpay payment method at your store's checkout and fill out a short form to get an instant approval for financing by Clearpay. Buyers will pay the first part right at checkout and will need to pay the other three parts every 2 weeks. At any time, buyers can check their payment schedule in their Clearpay accounts.?
While customers pay for their orders to Clearpay in installments, you as a merchant receive the full amount from Clearpay upfront.
---
FAQ
I can't enable Clearpay in my store. Why?
If you can't enable Clearpay, most likely you are using an old version of the storefront. Clearpay can work only with the new storefront. You can enable the new storefront in your store Control panel → Settings → What's New page.
How Clearpay installments are calculated?
Clearpay checks if the order is between £30 – £900, then it breaks the order cost into four equal parts. The order cost is the total sum of the product price, shipping costs, and tax rates. If the order total changes during the shopping process, the installment payments are recalculated by Clearpay at checkout.
What orders qualify for Clearpay financing?
Buyers' cart value must be between £30 – £900 to qualify for installments by Clearpay. Besides, before giving an instant approve to a buyer, Clearpay considers various factors, e.g. if it is a new or repeat user of Clearpay service, whether there are sufficient funds for the first installment amount on their credit card, how many "open" orders they have with Clearpay, etc.
What other financing options can I offer to my customers?
You can also use PayPal Credit and Afterpay (Australia, NZ, United States) to offer financing options to your customers.